Cleveland Fellowship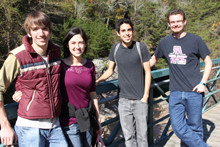 Time: 10am / 11:15am, Saturdays
Location: Meets at Restoration Fellowship
Summary: To seek as we are Sought, forgive as we are Forgiven, and love as we are Loved.
A mission church based out of the Waterville community.
We are committed to following in His footsteps, testing each footfall against Scripture, and letting the Spirit lead. Our over-arching goal is to take what we have learned, discussed and debated for so long and put it into practice; to stop looking for the theological entertainment of Church and seek instead the Spirit's enabling into service.